Where was jazz in the 1990's part 2?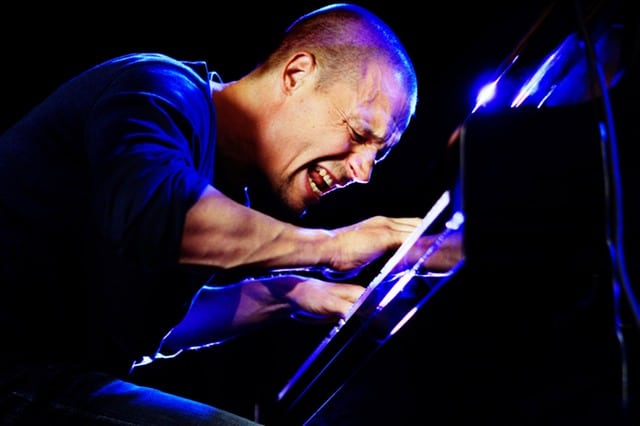 Part I of this article focused on the large American jazz market which was a natural outgrowth of the commercial success of the Young Lions movement of which Wynton Marsalis was it's most well known exponent.  The American "mainstream" jazz scene, (a term more superfluous in the last two decades)  had a tremendous impact on the radio and print media scene, making players like Christian McBride, the late Roy Hargrove, and Mark Whitfield jazz darlings.  However, amidst the U.S. jazz scene hyperbole, there was something more innovative coming from Europe.
Starting from the mid 1960's European jazz scene that brought musicians like Enrico Rava, Palle Danielsson, Jan Garbarek, and the crushing avant garde music of saxophonist Peter Brotzmann to the spotlight; there has always been a movement in European jazz to stretch the boundaries.  That boundary stretching, in the context of 1990's jazz (or as Nicholas Payton famously coined it, Black American music) has had a large impact on the present direction of the forum.  Many European musicians brought aspects from the folk musics of their native countries, techniques found in 20th century classical and new music, and especially  electronic music into something that would have a major fingerprint on the wider jazz scene. In his essay reappraising  Norwegian trumpeter Nils Petter Molvaer's landmark 1997 ECM album Khmer, Kelman notes four significant albums that signaled the shift that would eventually result in the album's creation:
At a time when, with the sheer volume of music vying for attention it's almost an impossibility to release a recording that actually shakes the foundation of what music is and what it can be, there was a time, in 1997-98—and in, perhaps, the most unlikely of places—when four albums changed the course of music…particularly in their native country, to be sure, but also on an international scale. Out of Norway came four albums whose influence continues to be felt to this day. First issued in Norway in 1996, it was in 1997 that keyboardist and head of the nascent Jazzland label managed to find broader distribution for the first in a series of recordings, titled (with some hubris, but justified) New Conception of Jazz which, also the name of his group, joined house and techno music with jazz in a manner that was fresh and new. in 1998, Supersilent shook the foundation of improvised music with 1-3 (Rune Grammofon), a three-disc set of largely aggressive noise improvisation that created its own space for music that, despite its often harsh angularity, could also reach places of unexpected beauty. That same year, guitarist Eivind Aarset released Électronique Noire (Jazzland), an album that garnered comparisons to the electric innovations of Miles Davis in the 1970s, and completely reinvented and re-imagined what could be done with electric guitar, a computer and a bevy of effects.
But it was trumpeter Nils Petter Molvær's 1997 album, Khmer, that had, perhaps, the most impact, if for no other reason than it was released on Munich's heralded ECM Records, a label with broad international reach and a reputation so strong that many of its fans would purchase albums by artists unknown to them on the basis of their simply being on the label. It's an album that, along with those from Aarset, Wesseltoft and Supersilent, positioned Norway as a significant contributor to music's forward motion towards the end of the 20th Century and kick-started an entirely new movement both in Norway and abroad, making it a perfect candidate for Rediscovery.
Molvær was already known to ECM fans as a member of the more jazz-centric, acoustic group Masqualero, led by fellow Norwegians, bassist Arild Andersen and drummer Jon Christensen— both very well-known to label followers as two of the five Scandinavian artists whose work the label began releasing as early as 1970, and who formed the first "new wave" of Norwegian music of which the 1997-1998 period is considered to be the second. But while Molvær had already garnered attention as a particularly lyrical player capable of fitting into many contexts, and while Norwegians may have been aware of some of the work he was doing leading up to the release of Khmer, for the non-Norwegian public this was a powerful shot across the musical bow, and a huge surprise for ECM fans as well.
Khmer is a quite interesting album when listened to twenty years later.  During this time in music history, house music beats were a huge part of the lexicon of international music.  House and Eurodance had been on international airwaves, with the latter particularly popular on American Top 40 radio mixed among the hip hop, R&B and rock sounds.  Molvaer along with drummer Arne Runesen, brilliant guitarist Eivind Aarset, percussion and dulcimer player Roger Ludvigsen, plus several other musicians brought forth and sound on the album that was new and fresh.  The use of samplers and laptops (on many albums today simply listed as electronics) were ethereal textures, and the use of percussion and middle eastern mode elements on the title track created the feeling of a post modern digital oasis with acoustic and electric sounds perfectly complementing each other.  Molvaer's Harmon muted trumpet, quite breathy and vocal was an exciting new texture.  Throughout the album with the use of extended technique, the trumpeter expands the sound of the trumpet to anything but– hinting at reed instruments.  The style and sound of Khmer was quite unlike anything coming from the American jazz scene, though musicians fluent in free improvisation like Derek Bailey, Cuong Vu and John Zorn along with noise musicians like Ikue Mori did bring elements of these sounds into their music.
Another band of many that made a big impact on the American jazz scene was that of the late pianist Esbjorn Svensson (1964-2008) whose trio with bassist Dan Berglund and Magnus Osstrom, collectively known as E.S.T. with their melodic approach to trio playing garnered quite a bit of crossover success.  The Swedish born Svensson formed the band in 1993 with friend Osstrom, and the trio was a huge attraction for years in Scandinavia.  It wasn't until the final year of the decade, that with the German ACT label, their album From Gagarin's Point of View did they break through to international success.   The attractive melodies and harmonies ("Dodge The Dodo" especially with dual EQ'd drums creating a synthetic effect) with Svensson's fertile, imaginative piano, placed things in a concise package, that even non jazz fans could gravitate towards. Their music hit the pop charts in Europe and was played on MTV in Scandinavia.  The group was the first European trio to appear on the cover of Downbeat, and their Seven Days Of Falling was distributed by Columbia, in the U.S. at their peak of popularity  Svensson's tragic death in a scuba accident was a huge blow, because he was such an immensely creative musician and composer that had he lived, would have contributed much to the current area.  On albums such as Khmer and From Gagarin's Point Of View the use of  production techniques often found in electronic music, brought a highly visual cinematic sweep.  The influence of these recordings, those by Bugge Wesseltoft, Manu Katche, among countless others continue to be felt in the present day in a big way.
To learn more about the vast sweep of how jazz in the 90's contributed to the modern day era, workshops at New York Jazz Workshop such as The Poetic Language Of Jazz Theory taught by Marc Momaas and Modern Jazz Ensemble taught by Sebastian Noelle can edify concepts found in jazz in the 90's.