Remembering Roy Hargrove (1969-2018) by CJ Shearn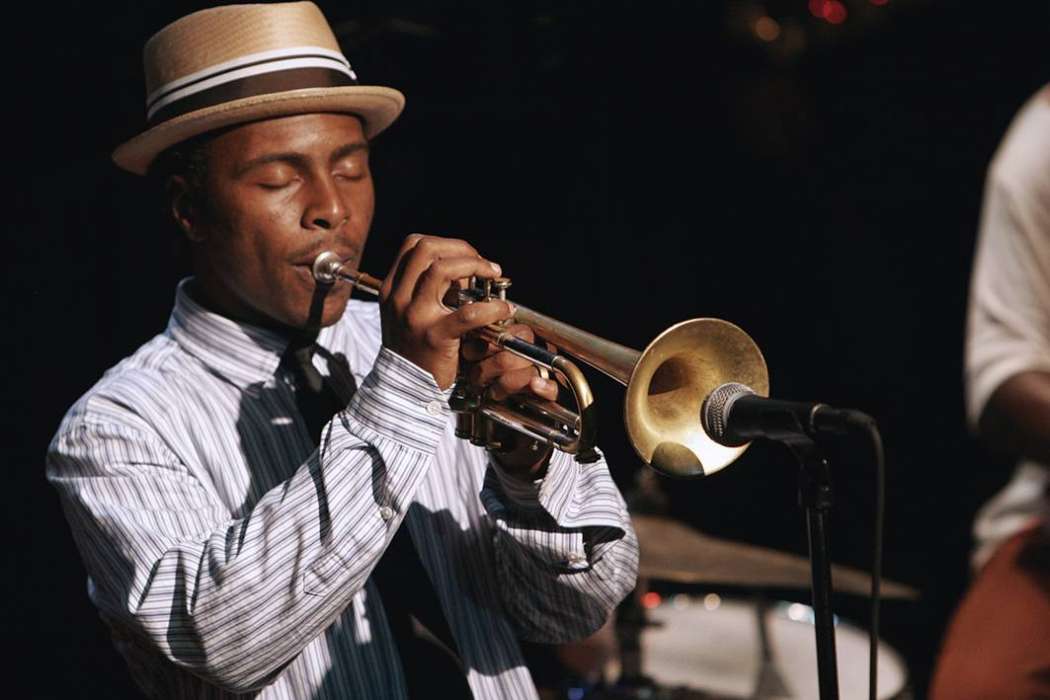 The jazz world is mourning the all too soon loss of the great trumpeter Roy Hargrove (Oct 18, 1969-November 3, 2018) at the age of 49. It's well known in the jazz that Hargrove had been on dialysis and suffered from health issues related to substance abuse. I saw a recent interview with him in France where he did not look well, but his playing had always been top notch. Indeed, for the last 24 years or so Hargrove had been one of my favorite trumpet players—I had heard him for the first time when I was 13 or 14 years old on RCA/Novus recordings like The Vibe, The Tokyo Sessions with Antonio Hart, Of Kindred Souls, and Live In Concert by the Jazz Futures. Hargrove benefited early on from the record collection of his parents, shifting from an interest in Motown, and P Funk among others, but those early interests formed his musically omnivorous path. His early encouragement from Wynton Marsalis while a student at Booker T. Washington Performing Arts School led to him studying for a year at Berklee from 1988-89 before the trumpeter made the move to New York. Upon Hargrove's arrival on the scene, his powerful bright tone was immediately apparent, as was his maturity to ballads and standards. The album that really sold me on Hargrove was The Jazz Futures: Live In Concert which was the first recording I heard him on.
The Jazz Futures was what would now be considered an all star group, consisting of musicians that had for lack of a better term been the first wave of neo boppers following the Marsalis brothers rekindling the flame of acoustic jazz on major record labels. The band featured Hargrove, Tim Warfield on tenor, the relatively obscure trumpeter Marlon Jordan (who adopted a relatively low profile after three albums on Columbia), Mark Whitfield, guitar; and veterans of the ensembles of Freddie Hubbard and Art Blakey, Benny Green, piano;  Christian McBride, bass; and Carl Allen; drums. It was pretty common for major labels back then to have young super groups, Blue Note had Out of the Blue and Superblue, a band Hargrove participated in. Verve had their roster that added Hargrove in 1994 alongside McBride and Whitfield and of course the Warner Brothers stable with Wallace Roney, Kenny Garrett, Brad Mehldau and Joshua Redman, with the four men recording together on Warner Jams, Vol. 1 a throwback to the Prestige era blowing date albums of the 50's. Not to belabor the original point, it was the Jazz Futures album that really made me think that Hargrove was going to be a name to watch. At that time I was in my Blue Note hard bop snob phase at the age of 14, and I loved Hubbard and Lee Morgan. For me, Hargrove brought that fire and swagger that those guys possessed,and to my ear, he embodied that swagger of Morgan to the point I had told my mentor in the high school's music department, Mr. Jerry Bachman, Hargrove was my generation's Lee Morgan. Knowing my passion for jazz he did not disagree. That characterization seems apt on more than level, both playing wise and for, the personal demons that affected him and my very naive, bold assessment could not have possibly considered that possibility at the time. What made me a Hargrove fan from this recording was a smoldering rendition of his original "Public Eye" featuring a ridiculous high speed trumpet duel with Marlon Jordan. This is what it must have been like for those to witness Dizzy Gillespie battling with his idol Roy Eldridge in the 40's, or Freddie Hubbard and Lee Morgan jousting on "Pensativa" from Night Of The Cookers (Blue Note, 1965) Hargrove displayed in his trades with Jordan an absolute fearlessness, a clarity of ideas, and warm, brassy tone that was just astonishing. About a year later after I heard that, he released his Verve debut With The Tenors Of Our Time and I picked it up quickly. In retrospect the album is a very big label kind of a thing, featuring the royalty of Joe Henderson, Stanley Turrentine, Johnny Griffin alongside Branford Marsalis, Joshua Redman and Ron Blake but the album showed a real confidence and maturity in Hargrove's playing and compositions. Hargrove's performances on Damn! by my hero, organist Jimmy Smith the following year and it's companion CD Angel Eyes were just as stunning as his appearance on Carnegie Hall Salutes The Jazz Masters for Verve's 50th Anniversary in released 1994.
In my junior year of high school a kid that I knew was a drummer had picked up Habana by Hargrove's band Crisol, which was a big thing at the time because it featured legends like pianist Chucho Valdez and Miguel "Anga" Diaz who were unable to perform in America due to the U.S.'s political situation with Cuba at the time. The band merged some of the best in New York with some of Cuba's finest. The record is absolutely on fire, literally some of the best Hargrove I ever heard, a deep look into the African and Latin origins of jazz, and not in a revisionist way either, but something living and breathing. Years later I had picked up a copy of this album and it instantly became a favorite. The takes on Kenny Dorham's "Una Mas" and the opening "O My Seh Yeh" are incredible.
Then there was Hargrove's ability to tackle other genre's like pop, neo soul and hip hop. Which makes this a perfect tie in to the previous blog on what has jazz innovated since the 1980's. As was mentioned in that article the young lions movement was a massive glitzy campaign among the record labels and media to present young jazz musicians playing acoustic jazz, almost reverting to another era and presenting them in a clean cut way. The music on these records was slickly produced but there was a go for broke attitude, on par with the kind of heightened masculinity that has marked jazz history since the beginning or as Ethan Iverson referred to it, an "icy machisimo". The intensity that runs on albums such as Triology (Warner Brothers, 1995) by Kenny Garrett, or the burn outs of Branford Marsalis on an album like The Dark Keys (Columbia, 1996) is quite pronounced, and makes for exciting fun listening. However, when artists like Hargrove or Christian McBride started including funk on their records, the critics went haywire. They were going on the same way when Miles Davis or Bob Dylan went electric, but in reality what was going on was these musicians were playing the music they grew up with.
In the early 90's even as a teenage jazz fan it was impossible to avoid what was coming out in hip hop circles amongst the likes of Cypress Hill, Wu Tang Clan or a Tribe Called Quest, so espcially in the latter's case the melding of jazz and hip hop was natural. Guru did it with Jazzmatazz on the hip hop side, Greg Osby had an album like 3D Lifestyles, and Steve Coleman did A Tale of Three Cities but they didn't catch on with mainstream hip hop fans. When Hargrove released Hardgroove in 2005, he set a precedent by doing something that Robert Glasper has been acknowledged for with his Black Radio series of albums, and in the process brought new audiences to jazz.  Hargrove's appearance on D'Angelo's Voodoo, Mama's Gun by Erykah Badu, and the great Continuum by John Mayer cemented him as a fearless genre hopper adding his uniquely singular voice to the proceedings. The "What's Going On" type bridge on Mayer's hit single "Waiting For The World Change" with Hargrove's multi tracked open and Harmon muted horn was something so identifiable as him, that for those in the know made it something so special. On top of that he fostered so many great young players and taught them in the apprenticeship system the way Art Blakey or Miles Davis used to. Despite his wide ranging musical interests he was always a fierce keeper of the jazz tradition, and his influence is felt amongst trumpeters like Darren Barrett, Sean Jones and Freddie Hendrix.  He was one of the  supernovas in trumpet royalty alongside Clifford Brown and Lee Morgan, his recordings and sound will continue to give me pleasure for years to come. Thank you Mr. Hargrove.
For students at New York Jazz Workshop who may be interested on learning more on the contributions of Roy Hargrove and the mechanics involved, workshops such as Bebop Workshop taught by Andrea Veneziani, From Bebop to Hard Bop taught by Mark Sherman can all aide in understanding Roy Hargrove's very modern conception  to the idiom.