A quick look at the the great bassist Jaco Pastorius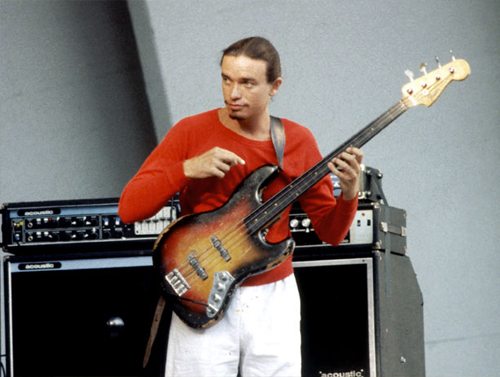 Thirty one years ago, Jaco Pastorius tragically left this planet. His innovations to the bass have been so ingrained into the fabric of music that it can be hard to imagine just how unbelievable he was when his self titled debut dropped on Epic in 1976, with a star studded cast including Herbie Hancock, Sam and Dave, Hubert Laws and Lenny White. Simply put, when Charlie Parker's "Donna Lee" opened the album in a brief two and half minute duet with the congas of Don Alias, what Pastorius was doing for the bass, had never been heard in jazz, much less than music in general. In a sense parallels could be made to when organist Jimmy Smith came onto the scene twenty years earlier, the Hammond organ had never been a modern jazz instrument before then, and his lines on the instrument were more like a horn player. Pastorius had taken the electric bass out of it's background foundation that had been heard in rock and R&B, made the bass a lead instrument, and by virtue of using a fretless bass, was able to apply the phrasing of an acoustic bassist or a cellist, lending a natural, voice like quality. Certainly, contemporaries like Stanley Clarke had also made innovations with the electric bass, his slap technique as well as guitar like musings on tenor bass, in Return To Forever and his own projects, but Pastorius was in an entirely different category. His apprenticeships in the Las Olas Brass and Wayne Cochran's CC Riders in Florida, with their mixes of R&B, pop and funk prepared him well for future musical journeys. The bassist had made a splash in 1975 on Pat Metheny's ECM debut Bright Size Life.
Following Jaco Pastorius (Epic, 1976) the bassist joined jazz-rock juggernaut Weather Report, first playing on two tracks of Black Market (Columbia, 1976) before becoming an integral part on the band's best known, million selling smash hit Heavy Weather (Columbia, 1977) and remaining with the band through 1982. Jaco and keyboardist Joe Zawinul had been experiencing well documented tensions, not only in personality, but in musical direction, where the bassist's own playing was increasingly subsumed by Zawinul doubling on synth bass and various keyboards to which Pastorius famously quipped about "technological overkill". What added fuel to the fire was Zawinul's put down of Pastorius' ambitious large scale Word of Mouth (Warner Bros, 1981) project that boldly announced his growth as writer, orchestrator and bandleader since his unforgettable debut. The Word of Mouth big band was an unapologetically modern look at the genre, a configuration out of vogue since the swing era. Though big bands did exist during the early eighties like the Count Basie Orchestra and Duke Ellington ghost band, big bands were much rarer, much less ones playing very contemporary music. Pastorius examined this group with the albums Invitation (Warner Bros, 1983) and Japan only Twins, of which the former album was a truncated version of those concerts. By 1982 and the resultant Japan tour, the bassist's erratic behavior, exacerbated by his struggle with bipolar disorder was becoming more apparent, taking a toll not just musically but in his personal life.
Word Of Mouth was met with critical acclaim though the first track "Crisis" a free improvisation over a sequenced synth with the musicians unable to hear each other through headphones was considered a horrible move to open the album by those at Warner Brothers, but those who went on with the album and listened further were rewarded by some of Pastorius' best writing. His 1982 tour with the Word Of Mouth Big Band hit a low point in Japan, where the bassist's mental illness was unraveling at an alarming rate. By the mid 80's the bassist was living homeless in New York having lost his bass, and by the time he accepted to get help for his illness and saw improvement in his health he was gone. In the Fall of 1987 he was beaten by a bouncer after having jumped on stage at a Santana concert, and he passed away on September 23rd.
Jaco's legacy as a leader was significantly boosted with Truth, Liberty And Soul: The Complete 1982 NPR Jazz Alive Concert on Resonance Records in 2017. The 2 CD and 3 LP set documented the complete concert from the Kool Jazz Festival in the summer of 1982 featuring forty minutes of unreleased music. The recording features the New York edition of the Word Of Mouth group at it's peak, playing with vigor and enthusiasm, and Metallica bassist Robert Trujillo's 2015 documentary Jaco did much to shed much insight on the man. Jaco's son Felix is a world class bassist who plays with the Yellowjackets and the Pastorius legacy i carried in the playing of Victor Wooten, Marcus Miller and countless other bassists.
If you are interested in the music of Jaco Pastorius, the New York Jazz Workshop offers a variety of classes in various disciplines such as voice, saxophone, composition and improvisation. The school has a strong group of faculty teaching electric bass such as Thomson Kneeland and Maryann Mcsweeney.