All Jazz is Fusion: By CJ Shearn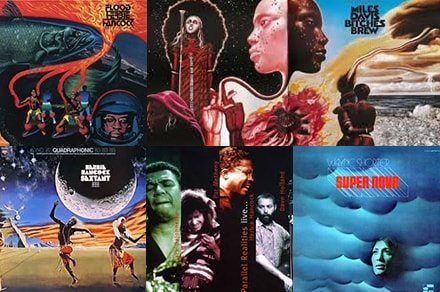 As I sat and listened again recently to selections from the first 12 Weather Report albums it made me think, while hardly a topic of debate with jazz fans (unless they are of the acoustic variety) as it was 35, 40 years ago, a lot of modern mainstream jazz albums are looking back at that so called "fusion" tradition. Many of the prime musicians in that period including drummer Harvey Mason, bassist Stanley Clarke, and pianist Chick Corea, have made albums reexamining that time period and using the intervening years of growth to expand on that music. I think just how ridiculous the term "fusion" really is, because all jazz is fusion, crafted from elements of European, African and Latin music. If we want to be technical, Jelly Roll Morton may have been one of the very first fusion musicians because of his adaptation of elements such as the Spanish habanera dance form into his compositions.
A point I would like to argue is that the generally accepted "fusion" movement, which is considered from 1967-1980, is really a blanket term, because albums during this period include jazz rock, jazz funk, and straight ahead tunes, not every album that featured electric instruments for example is a "fusion" album. While this subject is not new to jazz veterans, it is to those who have just been getting into jazz or perhaps studying it.
Drummer Lenny White, who can play anything from rock (when he was in the band Azteca in 1972), straight ahead jazz and R&B has been very convincing in stating his argument that the music should be called for what it is, the term "jazz-rock" or "jazz-funk". It is human nature to categorize and put things into narrow boxes and this article is still categorizing the music, but a lot of albums tend to get marked as "fusion" when those albums are so much more. Miles Davis, brought this music to the forefront of public attention with In A Silent Way (Columbia, 1967) and Bitches Brew (Columbia, 1969), but Miles had been experimenting with using extended form, and elements of Third Stream (integrating classical like techniques into jazz composition) as early as 1948, when he collaborated with arranger Gil Evans for Birth of the Cool (Capitol) culminating with the classic Sketches of Spain (Columbia, 1959) So, in all truth, while not a jazz-rock fusion record, it is a fusion record in the sense of combining Spanish rhythms, modes, with space for jazz improvisation. Miles playing pop tunes in the 50's is really no different than his playing contemporary pop tunes like Cyndi Lauper's "Time After Time" in the eighties.
The groundbreaking 1964 collaboration between singer Joao Gilberto and tenor saxophonist Stan Getz with Getz/Gilberto (Verve) utilizing bossa nova rhythms, igniting the bossa nova craze in America and around of the world is for all intents and purposes a fusion album also, blending Brazillian rhythms, with the behind the beat Lester Young inspired phrasing of Getz. As alluded to in the profile of Horace Silver, his United States of Mind (Blue Note) series of albums recorded between 1970 and 1972, while containing some new elements such as wah wah guitars, and electric piano, stylistically, the music is not all that different from what the late pianist was producing from 1955 on. There are funk rhythms on pieces like "Acid Pot or Pills", showing Silver's embracement of what was going on at the time but these albums are usually never mentioned in the development of jazz-rock or jazz-funk. An album like trumpeter Freddie Hubbard's Red Clay (CTI, 1970) is considered by many to be an early fusion classic, and that's where defining fusion as a narrow spectrum of rock influenced jazz becomes problematic. Although Ron Carter is heard on electric bass, and Herbie Hancock is on Fender Rhodes electric piano for the title tune, the rhythms are purely funky, with heavy syncopation (all earmarks of funk), the rest of the album is mainly tunes in a post Miles Davis Quintet idiom. "Delphia", with it's 6/4 gospel groove sounds very similar to the music Freddie was making for Atlantic from 1966-70, and "Suite Sioux" and "The Intrepid Fox" follow a heavily swinging model with musical grammar and vocabulary developed by the Miles Davis Quintet from 1963-68, the John Coltrane Quartet, Joe Henderson, and many others who were recording "straight ahead jazz". Smokin' In the Pit (NYC Records, 2000) the first record released by Steps Ahead (then known as Steps), the all star group made up of Michael Brecker on tenor sax, Don Grolnick on piano, Mike Mainieri on electric vibraphone, Eddie Gomez on bass, and Steve Gadd on drums, recorded in 1978 at the Pitt Inn in Tokyo, Japan is arguably the band's finest album, but due to the time period, the studio work of each musician, and their individual projects at the time, it is called a jazz-rock fusion record, but it is largely an album of hard swinging straight ahead jazz.
Many jazz albums today, follow artists blending everything they love about the music they grew up and follow in modern times, recalling a similar blurred genre climate in the late 1960's and early 1970's. New albums by drummer Mark Guiliana My Life Starts Now (Beat Music Productions, 2014) which incorporate the timbres and textures of electronic dance music, through composed pieces and improvisation, bassist Derrick Hodge's Live Today (Blue Note, 2013) saxophonist Dave Binney's Anacapa (Criss Cross, 2014) among many, many others reflect not only the tradition of various vocabularies built up over more than 90 years, but a willingness to incorporate sounds of now in a way that has served artistic and commercial concerns in an equal manner. Therefore, it is mainly about the music so musicians able to present their vision without dilution of content. With many acoustic jazz albums employing multiple styles, such as albums from alto saxophonist Kenny Garrett, and bassist Ben Williams it really proves that jazz is a fusion of many styles, not restricted to straight 4/4 swing or blues influences.
Notice in the example below of drum master Jeff "Tain" Watts and his composition "JC Is the Man" from his great live album Detained (Half Note Records, 2004). Watts freely mixes swing time and funk rhythms together, along with contrapuntal improvisation, a device used since the music's New Orleans' beginnings but here used in a thoroughly post modern manner. Tunes such as this and various recordings made over the past decade have shown that jazz in the present time has always shown itself to cultivate influences from everywhere, and has not been a "fusion" restricted to a brief time in history.