Teddy Wilson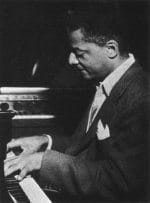 A seminal figure in the swing to bop movement, Teddy Wilson is known for his lightly swinging, effervescent style; a precursor and inspiration for the styles of later pianists such as Hank Jones, and Ahmad Jamal. Born in Austin, Texas in 1912, the son of school teachers, Wilson studied his musical craft at Tuskegee Institute and the Talladega College in Alabama. He traveled through Ohio, and Detroit with the bands of Speed Webb, and Milton Senior. Chicago brought engagements with Jimmy Noone's group, Louis Armstrong, Erskine Tate and others. He joined Benny Carter's ensemble the Chocolate Dandies in 1933, which Carter left to function as an arranger for Benny Goodman. Wilson joined vibraphonist Red Norvo, Willie Bryant in 1935, and later worked with Goodman.
Wilson's association with Goodman is notable because he was involved in the groundbreaking practice of a racially integrated band, being it's first black member. Wilson ventured to record his own small groups within this period with such greats as Lester Young on tenor, Roy Eldridges trumpet, vocalist Lena Horne and trumpeter Harry James. Wilson led noteworthy sessions with Billie Holiday also, and was present at Goodman's legendary 1938 Carnegie Hall concert. Departing from Goodman in 1939, forming his own orchestra with talents including tenor saxophone innovator Ben Webster and trumpeter Doc Cheatham. Wilson's lightly swinging style was dismissed as being a bit too sweet and "white", and the group quickly dissolved making way for a six year run from 1940-46 at the Cafe Society.
Additional highlights in Wilson's career include working at CBS Radio recording a number of sides making up The Teddy Wilson School of Piano , and a seven year term at Julliard, as one of the first Jazz musicians to join the faculty in the fifties. Verve issued recordings featuring Wilson as sideman with Lester Young and Benny Carter, recorded as a leader for Columbia, and was a part of Benny Goodman's orchestra for his tour of Russia.
Wilson was prolific through the seventies prior to his death in 1986. His influence was very evident in the aforementioned styles of Jamal, Hank Jones and can be very much felt on the Prestige recordings of the Red Garland trio, although Garland's playing frequently showcased a heavier bebop sensibility. Though his touch was light, with fine left hand comping, Wilson was often hard swinging, playing concise solos cutting right to the point. Teddy Wilson continues to make for intriguing study today for historians, and musicians alike.