Lee Morgan's "Speedball": Essential Small Group Jazz Performances Part XII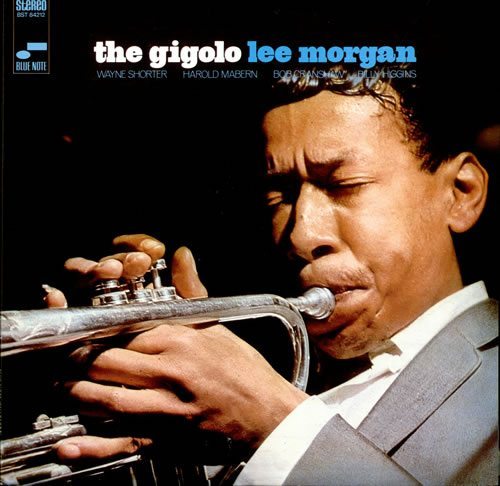 Lee Morgan: "Speedball" from The Gigolo (Blue Note, 1965). Lee Morgan: trumpet, Wayne Shorter: tenor saxophone, Harold Mabern: piano, Bob Cranshaw: bass, Billy Higgins: drums. Recorded July 1, 1965 at Van Gelder Studio, Englewood Cliffs, NJ. Recording engineer: Rudy Van Gelder, produced by: Alfred Lion.
From 1956 to his untimely death in 1972 from being shot by his common law wife between sets at Slugs in New York, Lee Morgan was one of the most vital trumpeters in jazz. One of the prime movers and shakers in the hard bop movement, he rose to prominence recording his first Blue Note album Introducing Lee Morgan at the age of eighteen, then joining Art Blakey's Jazz Messengers in 1958, after a high profile stint with the Dizzy Gillespie big band. In the post Marsalis era of jazz where several teenage prodigies have since emerged, like the phenomenal twelve year old Joey Alexander, in Morgan's heyday it was an achievement in itself to burst on the modern jazz scene with the swagger he possessed, bold and rich in his ideas. One of the most distinctive Clifford Brown influenced trumpeters, along with Freddie Hubbard (whom succeeded Morgan in the Jazz Messengers) he has been one of the most loved and emulated trumpeters, over the past half century.
Recorded on July 1, 1965, as part of two sessions that make up his album The Gigolo "Speedball", the trumpeter's ode to the lethal combination of heroin and cocaine is one of his most memorable compositions. Morgan's maturity as a composer came full bloom following the release of The Sidewinder which became a huge hit, prompting Blue Note to record copycat versions from artists like Kenny Dorham, Hank Mobley and John Patton. In February 1964 Morgan had recorded the brilliant Search For the New Land with Wayne Shorter, Herbie Hancock, guitarist Grant Green, Reggie Workman on bass and Billy Higgins on drums, an album that was briefly shelved, deemed too progressive following the crossover success of The Sidewinder. The Gigolo by comparison finds a middle ground between the accessible and artistic, anticipating the successes of albums like Cornbread featuring the title tune, and the beautiful "Ceora".
"Speedball" is a blues with a bright, cheerful melody taken at a comfortable swinging medium tempo buoyed by Billy Higgins inimitable cymbal work. The melody has Morgan's trademark sense of humor and one of his favorite triplet devices included in the "A" section. The ensemble work is tight, showcasing the simpatico Morgan and Wayne Shorter had as members of Art Blakey's front line in the Jazz Messengers from 1959-1961. Shorter's lead off solo, for four choruses showcases his wonderful command of playing catchy melodic lines, something that is often overshadowed by his immense compositional acumen. Morgan's solo is funky and direct with his favorite triplet lick, resurfacing at the top of the third chorus, Harold Mabern's solo flat out swings with the panache he's known for, and the trumpeter briefly trades fours with Higgins before the return of the head.
"Speedball" would continue to be a staple of the trumpeter's repertoire until his passing. Included with the original tune here is a rendition from the massive three disc collection Lee Morgan: Live at the Lighthouse (Blue Note, 1970) not released until it's expanded CD reissue in 1996, so readers can hear just how far the tune could be taken. The presence of Jack DeJohnette sitting in on drums, in an off night from his duties with Miles Davis, and his rhythmically looser time feel adds a completely different dimension to the tune, and Bennie Maupin's tenor solo, reaching way outside is a memorable highlight.