Freddie Hubbard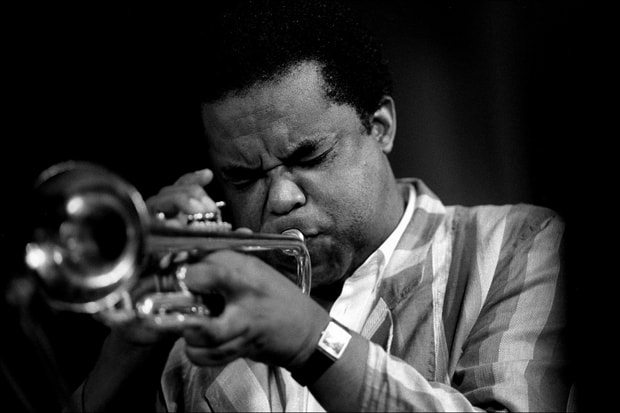 Following the line of trumpet royalty beginning with Armstrong, Eldridge, Gillespie and Davis, Freddie Hubbard's clarion tone, and incredible power is one of jazz's most identifiable sounds. Born on April 7, 1938 in Indianapolis, Hubbard started with the euphonium and E flat horn before moving to French horn and then trumpet. In 1958 he moved to New York, and his rich tone was already on display as one of the finest Clifford Brown influenced trumpeters on John Coltrane's final Prestige session recorded on December 26. In 1960, he signed with Blue Note and for five years made some of his most important recordings including Hubtones (1962) Breaking Point (1964) and The Night Of The Cookers (1965) featuring Lee Morgan. In 1961, Hubbard joined Art Blakey's Jazz Messengers, and remained there until 1965, where some of his best playing was captured in an ensemble also featuring Wayne Shorter and trombonist Curtis Fuller.
After his Blue Note tenure, Hubbard moved to Atlantic and gained a bit of the future crossover success he would have a few years later. His Atlantic albums found him utilizing different textures and backdrops to the music as on A Soul Experiment (1969) and he contributed to composer Ilhan Mimaroglu's deeply experimental Sing Me A Song of Songmy (1971). In 1970 the trumpeter signed with Creed Taylor's then fledgling CTI label and released Red Clay one of his most popular albums ever featuring Joe Henderson, Herbie Hancock, Ron Carter, and Lenny White. The album's title track, based on the pop hit "Sunny" by Bobby Hebb, is generally regarded to be one of the prime inspirations in jazz-funk, but the rest of the album is rooted in Miles Davis Quintet style post bop. Hubbard entered the Van Gelder studios again in November for the more jam session oriented Straight Life and 1971 saw the Grammy award winning First Light with a larger ensemble arranged by Don Sebesky, with the core all star band featuring guitarist George Benson, flutist Hubert Laws, Carter on bass and Jack DeJohnette on drums. Though First Light was often cited by Hubbard as his favorite album, it brought increasing, often faulty cries of sell out from the jazz community. His CTI period, ending with 1973's Keep Your Soul Together balanced the commercial and artistic quite well, while the former quality was the focus of his output at Columbia. The trumpeter made important contributions to other CTI albums during his time with the label including Stanley Turrentine's Sugar, the CTI All Stars' California Concert: the Hollywood Palladium (1971) and Don Sebesky's Giant Box (1974). As mentioned previously his 1974 move to Columbia featured him in more commercial settings though High Energy (1974) and the originally Japan only live album Gleam (1975) feature plenty of lengthy blowing.
At the start of the eighties Hubbard surprised some by signing with Norman Granz' usually conservative Pablo label after recording a few albums for Fantasy. By this time in his career, the trumpeter was at his absolute peak and laid down some of the best playing of his career, and by the end of the decade he rejoined the recently reactivated Blue Note. Unfortunately by 1992, Hubbard's legendary playing slowed down from a lip injury. Hubbard spent several years attempting to recover, but never quite regained his old form though his tone was always there. In 2008 Hubbard passed following complications from a heart attack after a rejuvenated final few years as a member of trumpeter David Weiss' New Composers Octet.
Hubbard's legacy as one of the greatest trumpeters of his generation is cemented for all time. The influence of his playing is found in countless trumpeters, His son, Duane, maintains his father's legacy by presenting new releases and product to get his father's music to fresh generations and faithful fans.