What are the connections between jazz and hip hop?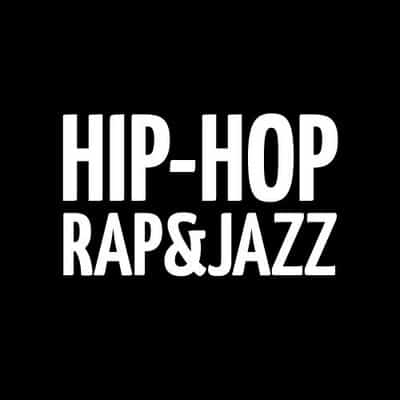 Jazz and hip hop are two of America's native art forms.  Both have had immeasurable impact on the cultural fabric of American society and life expressing the plight of African Americans.  While jazz came from the combination of African, Latin and European elements, hip hop arose in the 70's to express the dissatisfaction of social conditions that plagued blacks in the inner cities, and because music had been pulled out of schools, the instruments thus became turntables and microphones.  Perhaps that is an over simplification of the general methodology, but the use of sampling from R&B, funk and jazz recordings provided grist for the mill of musical accompaniment. There have been some arguments that jazz provided precedents for hip hop in the form of scat singing in terms of the aspect of rhythmical speech patterns, but a much closer pre cursor to modern hip hop would be pioneering pieces such as "N***ers are Scared of Revolution" by The Last Poets (1970) Gil Scott Heron's groundbreaking "The Revolution Will Not Be Televised" (1970) and the stream of consciousness lyrics found in many James Brown anthems of the late 1960's and early 1970's.  This may lead to the question what are the connections between jazz and hip hop?  The fact that both tell the story of blacks in America is one kinship, and another is how they have shared practices such as cutting contests, that gave birth to the emcee battle.
Jazz has always been fascinated with hip hop, although the gradual evolution of mainstream jazz being connected to the genre has been slow.  Hip hop artists used jazz as a jumping off point particularly as sampling became prevalent because hip hoppers were fascinated by the grooves, funky breaks, horn and bass lines from jazz recordings particularly from the 70's.  Jazz was always a presence in the homes of rappers like Snoop Dogg and Q-Tip, so their exposure and appreciation came from items stored in the record collections of their families.  Legendary free jazz saxophonist Luther Thomas delivered "Yo Mama", the first jazz-rap recording in 1981, and the general tone and spirit captured the vibrancy of the early hip hop scene conveyed on classic tracks like "Rappers Delight"  (1979) from the Sugarhill Gang.  Tom Browne's "Funkin' For Jamaica" also captured the party vibe of early hip hop. Bebop pioneer Max Roach, always encouraging of new developments in black music collaborated with MTV VJ Fab Five Freddy in 1982, but the following year Herbie Hancock would release the shot heard round the world with "Rockit" on his album Future Shock (Columbia, 1983).
Much like his former employer, Miles Davis, Hancock had been riding the crest of innovation, not only musically, embracing jazz-funk, R&B and disco, but technically.  Hancock's work on synthesizers explored a new sound palette, and courtesy of his technician Bryan Bell developed a MIDI like interface years before it was in vogue to control his battery of keyboards.  In 1980, Hancock released the rock focused Monster, and straight ahead acoustic outing Quartet the next year with Wynton Marsalis, Ron Carter and Tony Williams, with the funk of Magic Windows to follow the same year, and the late Rod Temperton produced Lite Me Up in 1982.  In his 2015 auto biography Possibilities the pianist described the latter two albums as seeming like he was a sideman on his own recordings, and he had been looking for the next development musically to latch onto.  While Hancock's fan base do consider  Magic Windows and Lite Me Up to be classics from the R&B and funk side, critics predictably slammed the keyboardist for these efforts, much like they had been dismissing Davis' efforts around the same time.  Hancock was informed by his manager Tony Meilandt about Bill Laswell and Michael Beinhorn, two musicians who had working under the band name, Material and that they had been working with artists creating a new sound.   Hancock asked Meilandt to connect him to the duo who sent him two songs with the possibility the keyboardist could contribute.  He then asked his godson Krishna Booker, the son of bassist Walter Booker, to create a cassette for him with new music that young people had been listening to.  Hancock was enthralled with Malcolm McLaren's "Buffalo Girls" containing the sound of turntable scratching, and when Laswell brought him the demo tracks, once the scratching of "Rockit" began, he knew that's what he wanted to do, and they started to assemble other musicians, from which Hancock would then layer his keyboards on top at his LA studio.  When the Columbia offices heard the new single and album, they were mortified.  Much like the keyboardist's 1973 Headhunters, the label had no idea how to sell the recording because Future Shock was such a radical departure from anything Hancock had done before.  The surreal, visionary video featuring dancing robots put the song on the map and people everywhere were break dancing to the new track.  Hancock as a jazz artist gained mainstream acceptance in a way that was quite unexpected although there was a hurdle: his face being shown in a monitor was due to MTV's insistence a black artist should not be out front in a video– an assertion quite callous since Michael Jackson had been a phenomenon on the new network.  Despite follow up attempts like "Hardrock" on Sound System (Columbia, 1984) Hancock failed to capture the hip hop and mainstream audience in quite the same way.
It would be quite a few years before jazz and hip hop crossed paths in a meaningful way in the 90's. Miles Davis' Doo Bop (Warner Brothers, 1993) was the first to cross that bridge.  Featuring the production work of Easy Mo Bee, the album used earlier recordings from the trumpeter made before his death flanked by popular loops, grooves and samples of the time. Alto saxophonist blended his unique rhythmic concepts with underground rappers on  A Tale Of Three Cities (RCA, 1993) using some gritty New York production, but changes in hip hop were moving on a grand scale.  Groups like A Tribe Called Quest and Digable Planets were drawing heavily among classic jazz recordings for sampling.  A Tribe Called Quest brought organist Lonnie Smith back to the spotlight through a sample of "Spinning Wheel" from the album Drives (Blue Note, 1970) and also Ronnie Foster by sampling "Mystic Brew" from Two Headed Freap (Blue Note, 1972).  Through these samples, hip hop listeners became curious and sought out the original albums, which were quite rare and hard to find at the time.  Club culture and jazz being played for the dance floor in the UK during the 80's had a major effect on jazz being integrated into hip hop.  Digable Planets' sample of an obscure Art Blakey and the Jazz Messengers track was a clever way to insert great jazz within a hip hop track.  Us3 a London based group released Cantaloop in 1993 on Blue Note, a track sampling Herbie Hancock's "Canteloupe Island" became a major hit thrusting the label back on major airwaves.  The most important aspect of Us3 was that they were the first artists to be given legal permission to sample the Blue Note catalog.  In hip hop the production styles displayed on albums by Wu-Tang Clan, the blunted sounds of Cypress Hill as well as the above mentioned A Tribe Called Quest displayed sonic leaps similar to jazz in the late 60's and early 70's and rappers like Biggie Smalls and Tupac Shakur were analogous to the bebop revolution in terms of their contribution to East Coast and West Coast rap respectively.  Nas' classic Illmatic furthered a link to jazz not only through samples of Donald Byrd and Joe Chambers, but his father is Olu Dara a great trumpeter, so the music was in his upbringing.  A Tribe Called Quest's classic Low End Theory (RCA, 1991) is a landmark because Q-Tip was able to get Ron Carter to appear on the album.  Carter's son was an avid hip hop fan and was assured that their content was a bit more conscious than some of the hip hop coming out at the time, and he agreed to appear on the album.  Carter's sampled  bass lines from various CTI albums had been a staple of the genre and the Black Sheep's "The Choice Is Yours" famously sampled Carter's solo from "Impressions" by McCoy Tyner's Trident (Milestone, 1978).   Carter's married his rhythmic clarity and harmonic acuity to two tracks on Low End Theory to play lines that blurred the lines between live playing and a sample.  His steadiness on "Buggin' Out" mimicked the mechanical quality of a sampler, but with a distinct organic quality that's been his signature.
Guru's Jazzmatazz series of recordings beginning in 1994 was the beginning of hip hop really beginning to cross the jazz mainstream, featuring Donald Byrd and Branford Marsalis among others.  Marsalis crossed that divide as well with Buckshot LeFonque, and the reason that project was successful was because the saxophonist was one of the few that really "got it", sounding quite a bit more authentic than even Doo Bop in it's beats and production style.  However the massive shift of hip hop and jazz truly becoming inextricably linked was through the late trumpeter Roy Hargrove's album Hardgroove (Verve, 2005) which featured Common and Erykah Badu.  For really the first time big name rappers were collaborating on a jazz artist's recording, and creating a level of crossover.  Hargrove, in addition to being the standard bearer for the jazz tradition had his ear to the ground and was just as much a part of contemporary funk, R&B and hip hop going on at the time, having appeared with Badu, and later D'Angelo.  Robert Glasper's Black Radio series of records really proved through appearances by Badu, Snoop Dogg, Common, and others proved without a doubt that hip hop is permanently a part of the jazz landscape.  Glasper, Chris Dave, Mark Giuliana, and Ben Williams all grew up during hip hop's golden age, and that music was part of what they grew up with.  In turn, Glasper, and drummers Dave and Giuliana have taken the production innovations of the late JDilla in hip hop and applied his rhythmic concepts to acoustic instruments.  Though the topic is controversial for some, hip hop is a huge part of the modern jazz language.  The New York Jazz Workshop offers workshops such as Modern Jazz Ensemble taught by Sebastian Noelle that can aid in understanding the incorporation of how hip hop connects to jazz.