Wayne Shorter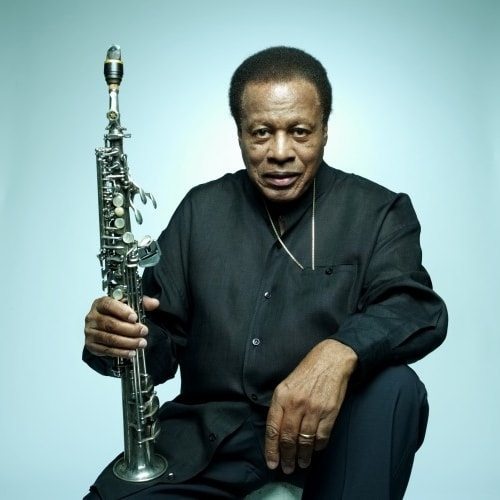 In the history of jazz there have been many colorful characters, Lester Young, Thelonious Monk, Dizzy Gillespie, pianist Cecil Taylor, the vocalist Babs Gonzales to name just a few. Tenor saxophonist Wayne Shorter, who recently celebrated his 82nd birthday has always been one of the most exploratory voices in the music, and one of its most intriguing figures. From the time he joined Art Blakey's Jazz Messengers in 1959, his first Vee Jay recordings, his early career defining Blue Note recordings, his groundbreaking memberships in the Miles Davis Quintet of September 1964 to 1968, and jazz rock and jazz funk pioneer Weather Report, his compositions and playing have made an indelible mark. His quartet with pianist Danilo Perez, bassist John Pattitucci and drummer Brian Blade for the past 12 years has made some of the greatest and most invigorating music of his career.
Born in Newark, New Jersey on August 25, 1933, he and his brother Alan (who became a noteworthy avant garde trumpeter) grew up in a music centered household. Clarinet was his first instrument; Shorter focused on the saxophone in high school, then after graduating from NYU in 1956, and subsequent two year military stint in the army, he had a brief tenure with Maynard Ferguson before joining drummer Art Blakey and the Jazz Messengers in 1959. His composition "Lester Left Town" was first recorded for the Jazz Messengers April 10, 1959 session which was eventually released as Africaine (Blue Note, 1979). "Lester Left Town" re-recorded in 1961 for the album The Big Beat was one of the many memorable compositions he wrote for the band, before becoming their musical director. Beginning in 1964, Shorter began recording his own albums for Blue Note, JuJu Speak No Evil the challenging, avant leaning The All Seeing Eye and Schizophrenia (1967) are among Shorter's most loved albums from his first Blue Note tenure. Shorter's compositional style on his own albums is characterized by an elliptical, harmonically fascinating style that became even more explicit with the Miles Davis' Second Quintet's first album E.S.P. (Columbia, 1965). Over the course of the band's 5 year existence, Shorter's tunes were a heavy part of the repertoire, and many of them, such as "Orbits", "Pinnochio" and "Nefertiti" have become jazz standards. "Nefertiti" especially a fascinating study in the way the band reversed roles, the rhythm section leading the path, while the horns play a lengthy coiling repetitive figure. The drums of Tony Williams prominently playing declarative, and melodic improvised phrases between the main thematic material.
In 1971 Shorter co-founded Weather Report with keyboardist Joe Zawinul. That era of music was particularly exciting, because each of the major so called jazz fusion bands at the time were led by musicians who had played in groundbreaking ensembles led by Miles Davis. Weather Report's trajectory is markedly intriguing for the various directions the band took in its 14 year existence. The self titled Weather Report (Columbia, 1971) and it's follow-ups I Sing The Body Electric (Columbia, 1972) and Live in Tokyo (CBS/Sony, 1972) with their searching, dissonant, avant garde and "everybody solos, nobody solos" approach were a far cry from the funk centric, and more accessible direction they took starting with 1973's Sweetnighter all featured Shorter's tenor and soprano weaving lines through the music like a slick counter puncher, and more memorable compositions at least through to Mr. Gone (1980) where Zawinul's compositions took a greater focus. The saxophonist's provocative, limber playing in the ensemble helped bridge the worlds of jazz, funk and rock, and through his participation both with Miles Davis and Weather Report, helped bring jazz to a new generation.
Between albums and tours with Weather Report, Shorter returned to acoustic jazz in Herbie Hancock's V.S.O.P. Quintet with Freddie Hubbard on trumpet instead of the temporarily retired Davis, and recorded his own series of albums for Columbia, leading off with the stunning Native Dancer (1976) featuring Brazilian music icon, Milton Nascimento.
In the middle of an artistic renaissance that jump started his career after some lean recording years with the well received electric project High Life (Verve, 1995) Shorter suffered a horrendous personal tragedy when his wife and niece were killed on TWA Flight 800. Despite something that would take the essence of life away from most people, Shorter's dedication in life and music became even stronger with the formation of his quartet in 2002. The quartet, with the above mentioned Panamanian pianist Perez, bassist Pattitucci and drummer Blade takes his music and consistently reinvents it with thrilling results. Shorter's compositional style is unique because he has noted that pieces of his are never really finished, and on the four records he has made with this group over the past decade plus, most recently with 2012's return to Blue Note Without a Net he has pushed the bar higher re-investigating older classics, and new pieces such as "Pegasus" and "Gaia", both written for large ensembles. Shorter's influence as a player, composer and fascinating, eternally youthful human is an active component of jazz. The saxophonist recently bestowed trumpeter Wallace Roney the honor of playing some new compositions, "Utopia", and "Twin Dragon" that were originally conceived for Miles Davis, Roney orchestrated them for larger ensemble. Shorter has been noted as well for his humanitarian work with UNESCO, and being a central figure in the annual International Jazz Day.