Jazz as a medium for social and political change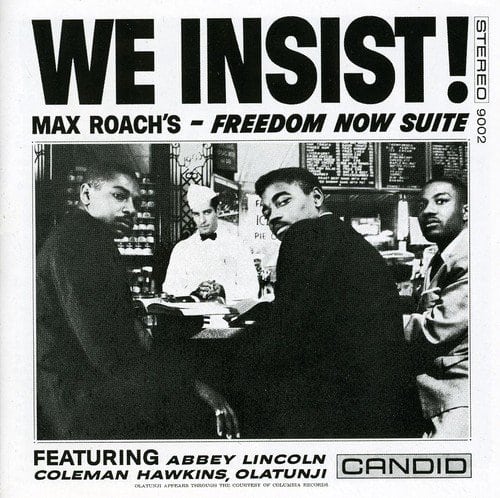 Jazz has been a catalyst for political and social change throughout it's entire history. The music of John Coltrane, Miles Davis, Dizzy Gillespie, Max Roach, Sonny Rollins, Thelonious Monk, Louis Armstrong, Charles Mingus, Darius Jones, Tia Fuller, Jazzmeia Horn, and Fay Victor among many others has been used as a vehicle to find express and maintain freedom as human beings. Today the music of artists like Robert Glasper, Wynton Marsalis, Gregory Lewis, Terence Blanchard, Christian Scott, Antonio Sanchez, and Ben Williams continue that expression of freedom as a wider forum for the depth and richness that persons of color have contributed to this culture. Musicians like the late saxophonist Fred Ho, and Dave Brubeck used jazz as a social consciousness medium throughout their careers. Ho's work, particularly as an improviser and play wright was a harrowing look into what Asian Americans have endured in this country, and his aligning with far left leaning philosophies only served to amplify his goals. In the 2009 documentary Jazz in The Present Tense, a sort of answer to and follow up on the limited scope of Ken Burns Jazz from 2000, one of the experts interviewed in the film ruminated the music of Davis, Gillespie and others was relatable to average people because it expressed their struggles in being human beings in a way that certain artists today did not.
In 1939, Billie Holiday's rendering of the graphic, emotionally wrenching "Strange Fruit" described the horror of observing blacks being lynched during the height of the Jim Crow era south. The lyrics are a chilling account of the treatment of black Americans, and a prescient reminder today that this is still going on. It does not matter that civil rights laws have been in place since 1965, black Americans, men especially, have been at the end of some heinous crimes. On March 19, 2015 Otis Byrd, aged 54 was found hanging in a tree; a disturbing throwback described in "Strange Fruit". 17 year old Lennon Lacy was found hung in Bladenboro, North Carolina, another example of the present mirroring history. Every performance Holiday sang of her signature tune was rife with emotion, check out the famous 1957 performance taped for the CBS special: The Sound of Jazz. Below are the evocative lyrics from the song.
Southern trees bear a strange fruit,
Blood on the leaves and blood at the root,
Black bodies swinging in the southern breeze,
Strange fruit hanging from the poplar trees.
Pastoral scene of the gallant south,
The bulging eyes and the twisted mouth,
Scent of magnolias, sweet and fresh,
Then the sudden smell of burning flesh.
Here is fruit for the crows to pluck,
For the rain to gather, for the wind to suck,
For the sun to rot, for the trees to drop,
Here is a strange and bitter crop
In 1956, the U.S. State department selected some of the greatest and most visible jazz musicians to be ambassadors to the Soviet Union in the wake of the Cold War. Dizzy Gillespie, Dave Brubeck, Duke Ellington, and Louis Armstrong were all invited. The political and social circumstances are well detailed in the recent PBS documentary, The Jazz Ambassadors. Sending such well known icons of the music to promote world peace, with music as the weapon instead of nuclear warfare was as smart of a move to promote U.S. image as much as political change. Congressman Adam Clayton Powell was a champion for jazz and advocated strongly for the inclusion of the musicians involved as a peace making gesture. For audiences that witnessed the music in Europe, they were blown away by the chance to see their heroes live, and for young jazz aficionados at the time, the concerts were about exactly that– a momentary escape from the social and political situations gripping their countries. Armstrong, who was supposed to attend the trip to Russia, dropped out of the tour, eventually traveling to the continent in 1961 when the political views shifted a bit. Armstrong's first trip to Ghana in 1957 was powerful for him as it was the people of Ghana. His own explicit statement on being African American, "What Did I Do To Become Black and Blue" moved Ghanaian independence leader Kwame Nkrumah to tears. Armstrong had made the connections between Africans and African Americans very clear, and his own music with striking use of counterpoint in the New Orleans tradition is directly descended from methods used in African music.
September 3, 1957 marked one of the most important days in the history of the United States, when Arkansas Governor Orval Faubus interfered in the desegregation of schools. Defiant against federal orders mandating desegregation, he employed the National Guard to interfere by blocking nine children from integrating into the school causing a national uproar. Bassist Charles Mingus, a shamelessly outspoken critic of racial injustice wrote the scathing, powerful "Fables of Faubus" as a result. The lyrics go as follows:
Oh, Lord, don't let 'em shoot us
Oh, Lord, don't let 'em stab us
Oh, Lord, no more swastikas
Oh, Lord, don't let 'em tar and feather us!
[Chorus]
Oh, Lord, no more Ku Klux Klan
Name me someone who's ridiculous, Dannie
Governor Faubus!
Why is he so sick and ridiculous?
He won't permit integrated schools
Then he's a fool!
Boo! Nazi Fascist supremists!
Boo! Ku Klux Klan (With your Jim Crow plan)
[Chorus]
Name me a handful that's ridiculous, Dannie Richmond
Bilbo, Thomas, Faubus, Russel, Rockefeller, Byrd, Eisenhower
Why are they so sick and ridiculous?
Two, four, six, eight:
They brainwash and teach you hate
H-E-L-L-O, Hello
Boo! Nazi Fascist supremists!
Boo! Ku Klux Klan (With your Jim Crow plan)
[Chorus]
Name me a handful that's ridiculous, Dannie Richmond
Bilbo, Thomas, Faubus, Russel, Rockefeller, Byrd, Eisenhower
Why are they so sick and ridiculous?
Two, four, six, eight:
They brainwash and teach you hate
The lyrics today are still penetrating and poignant, and are almost just as relevant given the particular climate as First Amendment rights are threatened nearly every day. The bassist's lyrics were deemed so controversial, that when he entered the Columbia 30th Street Studio on May 5th, 1959 to record tunes that would eventually be part of Mingus Ah Um, the label would not allow the lyrics to be included. However, when Mingus signed with Candid records, the full exchange between him and drummer Dannie Richmond was included on Charles Mingus Presents Charles Mingus the following year. Louis Armstrong was so enraged that President Eisenhower and Governor Faubus reached a standstill that he issued the following famous statement in a newspaper interview: "My people, the Negroes, are not looking for anything, we just want a square shake. But when I see on television and read about a crowd spitting on and cursing at a little colored girl, I think I have a right to get sore and say something about it." The incident was just one reason that eventually caused the trumpeter to cancel his tour of the Soviet Union, and as mentioned earlier, he did not go there until 1961. The conflict between Central High School and Governor Faubus was alleviated when President Eisenhower sent the 101st Airborne Division of the United States Army to allow the nine students to integrate.
In 1958, Sonny Rollins released his classic recording Freedom Suite (Riverside). It is one of the earliest jazz records to deal with the burgeoning civil rights movement that defined 1960's America. Jazz Times magazine ran a cover story in 2017 discussing socially relevant jazz from "Strange Fruit", to Max Roach's We Insist! Freedom Now (Candid, 1960) and Louis Armstrong's "What Did I Do To Be So Black and Blue" mentioned earlier in this piece. These timeless pieces were mentioned alongside contemporary fare from Kamasi Washington and Christian Atunde Adjuah (Christian Scott) but curiously, Rollins' pivotal recording received no mention. The retired saxophone giant made a call to the magazine and then crafted a tremendous letter arguing for the inclusion into the pantheon of socially and politically relevant jazz. In a brief excerpt, Rollins lamented:
"The record Freedom Suite was made in the beginning of 1958. It was a trio recording with Max Roach and Oscar Pettiford, and it was an important album. The producer, Orrin Keepnews, took a lot of heat for that record. I made a statement [about civil rights on the back cover of] that record, and he even had to say at one time that he wrote the statement, which is ridiculous. But he wanted to record me on his Riverside label, and that was the piece that he had, and he accepted it.
I took some heat for it as well. I was playing a concert in Virginia, something at a school down there, and I remember being confronted—not in a hostile or violent way, just verbally—about why I made this record, and so on and so forth. There were a lot of those [incidences]. It wasn't a big deal for me, because as I said, it was quite normal. I was born into a family that was always very cognizant of those things. I do remember that the controversy was slightly scary—but not too much, because I was a big, strong guy, and when you're young you think you're indestructible. But in retrospect it was a little scary, yes. And it was also one of these situations where some people talked with me about it and some people didn't, but it was always there, hanging over everything. Especially at that time; 1958 was pretty early on in the consciousness of the civil-rights movement.
So it wasn't like something that nobody knew about; it was a controversial record. They actually changed the title to Shadow Waltz [when the album was reissued by the Jazzland label in the early 1960s]. "The Freedom Suite" took up one half of the album, and the other half was standard compositions. So they took a name from the other half of the record.
Anyway, it's history—but it is history. And that's why I was distressed to see it omitted from the list. In the modern jazz era, that was the first record that reflected the civil-rights period. That was the first that I know of. It was an important thing, a groundbreaking record. I just don't want to be written out of history."
In 1960, Max Roach's We Insist! Freedom Now! positioned itself as one of the most important statements the music has ever produced. The album length suite with lyrics courtesy of poet Oscar Brown Jr. made a shattering impact with tunes like "Driva Man" (revisited by drummer Jeff "Tain" Watts in 2015 on his album, Blue, Vol. 1) and a statement on South African apartheid, "Tears For Johannesburg". Regarding the situation in South Africa, Miles Davis made a curt, matter of fact statement in a late 80's interview where he said he would never play in South Africa. His 1989 album Amandla (Warner Brothers) made a serious statement on the issue regarding then imprisoned leader, Nelson Mandela.  The black consciousness movement in the 1970's in South Africa saw jazz as a method of fighting Apartheid. The repressive government of P.W. Botha severely limited opportunities for the musicians and events like the Soweto uprising of 1976 shut certain music venues down permanently and black jazz musicians from South Africa struggled to create. Musicians were even jailed for their support of the African National Congress by screaming "viva ANC" at live concerts.
John Coltrane's "Alabama" from Live At Birdland (Impulse! 1963) was an elegy in response to the senseless 16th Street church bombing in Birmingham, Alabama on September 15, 1963. Coltrane was inspired by the cadences in a Martin Luther King  speech following the event, and patterned the melody after his speech. The tune is a mournful prayer with the spiritual undertones that marked Crescent and A Love Supreme the next year, and Elvin Jones' rumbling toms and freely rolling drums seemingly indicating anguish and rising emotions, Trane's solo acts as a plea for humanity to stop the madness, a moving performance. Nina Simone's cutting "Mississippi Goddamn" was a call for people to rise out of frustration following the events of Medgar Evers' death and the Alabama church bombings. The recording was so controversial that the titular song title was censored on promo copies. Further tension in the black community was exacerbated by Malcolm X's assassination on February 21, 1965 at the Audobon Ballroom in New York just prior to delivering a speech for the Organization for Afro American Unity. African Americans were taking sides either with the non violent philosophies of Dr. Martin Luther King, Jr or the more militant stance of Huey P. Newton's Black Panthers. The Black Panthers indeed made significant changes in the black community, providing literacy and food programs despite the images the news portrayed of fierce militarism which terrified those unaware of their mission.
As a result of the turmoil, jazz in the 1970's took on a more Afrocentric complexion. Herbie Hancock had his band Mwandishi, where all the band members assumed African names, the music was as influenced by pulsating African rhythms as it was the electronic experiments laid down by Stockhausen in the previous decade. Joe Henderson's Milestone albums had titles such as In Pursuit Of Blackness, Black Narcissus, Black Miracle and the frankly titled If You're Not Part Of The Solution, You're Part Of The Problem.  Prestige was capitalizing on the popularity of soul-jazz in the black community and released albums such as Black Talk, Living Black! And Black Drops by Charles Earland. To that end, Blue Note released Say It Loud, I'm Black And I'm Proud by Lou Donaldson in 1968, the soundtrack to the blaxploitation film The Final Comedown in 1972, and Blackbyrd by Donald Byrd the same year. Incidentally, the album was originally intended for Lee Morgan, but he was shot down by his common law wife Helen Morgan at Slugs between sets in April, 1972. The bizarre and at times touching story of the trumpeter's journey with his wife is told in the excellent documentary I Called Him Morgan. Miles Davis' sea change of On The Corner was in part a response to him reaching the young black community where he fell out of favor. The album has subsequently influenced an entirely new generation of fans from electronic music and hip hop and where jazz is today, that record is definitely one of the reasons why.
Today jazz is reaching a social and political apex similar to the sixties and seventies. Just a few examples of jazz being used as a medium for change: Bassist Ben Williams terrific second album, Coming Of Age (Concord Jazz, 2015) featured a track entitled "Toy Soldiers", a gripping tale of being a black male being allured by the trap of societal structure in the inner city. The track, with a rap by W. Ellington Felton focuses on the foley of making fast money instead of seeking an education; a life style that leads to early demise, a trope that so contemporary hip hop culture portrays. The track is a powerful wake up call for young black men to be enlightened and is in it's own way as potent as Gil Scott Heron's The Revolution Will Not Be Televised. Trumpeter Terence Blanchard has always used jazz as a forum for politically tinged music. His 2009 release Choices (Concord Jazz) interpolated an interview with Dr. Cornel West framing a film in sound which is no surprise given the myriad of film scores Blanchard has scored. The 2015 release of Breathless (Blue Note) with his current group the E-Collective was a sobering reflection on the rampant unwarranted police brutality that caused the murders of Tamir Rice, Eric Garner and Michael Brown. The album's new recording Live (Blue Note) uses the music as a jumping off point to continue a discussion on gun control. The music was recorded in cities that had instances of horrific violence as result of fire arm use, and was preceded by open discussions in the community about the issue. Trumpeter Ambrose Akinmusire's "My Name is Oscar", and "Rollcall For Those  Absent" are touching tracks memorializing the shooting deaths of Oscar Grant, those who were felled by police brutality, and school shootings.   Antonio Sanchez' Bad Hombre was a manifesto of gale force implications on being a Mexican who gained American citizenship and the discontent over current political leadership. In recent memory, the album is one of the most powerful statements that jazz has produced being conduit of social change. These brief examples show that the music has lost none of it's power in being a microcosm of social activism due to the form's very core of freedom.
For more reading on how jazz shaped the social and political causes of black people and humanity, check out books like Blues People by Amiri Baraka, Listen To This: Miles Davis and Birches Brew by Victor Svorinich, To Be Or Not To Bop, Dizzy Gillespie's  autobiography, and Hard Bop by David Rosenthal.
Sources: https://medium.com/cuepoint/say-it-loud-a-brief-ish-history-of-black-power-in-music-b1ca6f9c737a
http://time.com/5056351/cold-war-jazz-ambassadors/
https://jazztimes.com/features/sonny-rollins-speaks/