Celebrating the brilliance of bassist Paul Chambers (1935-1969)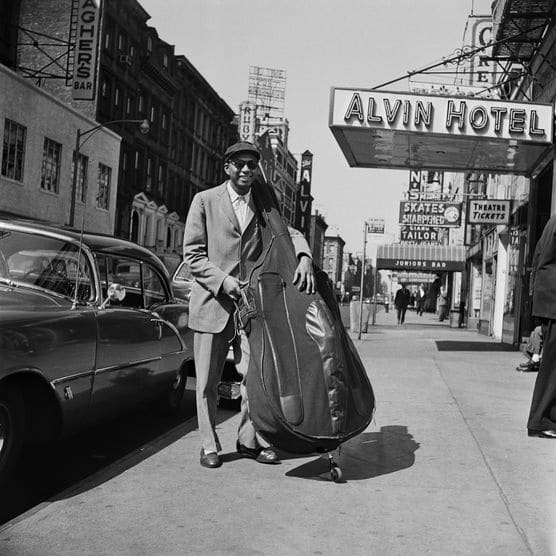 April 22nd would have marked the 83rd birthday of the legendary bassist Paul Chambers.  Jazz  bassists' role in jazz had shifted significantly with Jimmy Blanton,  who took the instrument out of a pure harmonic and rhythmically based role in Duke Ellington's band.  Following that, Oscar Pettiford and Charles Mingus made substantial contributions to the function of the bass, and Chambers' brilliance of note choice put him right there with them.  Born in 1935 in Pittsburgh and raised in Detroit after his mother's passing, he initially started on the baritone horn, later switching to tuba.  He began playing the bass in 1949, and seriously studied with a bassist in the Detroit Symphony Orchestra in 1952, later studying intermittently at Cass Technical High School where his classmates included trombonist Curtis Fuller and trumpeter Donald Byrd.  Chambers played in his high school's orchestra, various ensembles (including one on baritone saxophone!) and had absorbed  an array of instruments before moving to New York to play with "Little Prez", Lester Young disciple and long time Count Basie band veteran, Paul Quinichette.
Chambers was among a cadre of Detroit musicians who settled in New York along with a who's who of the music such as Barry Harris, Kenny Burrell, Thad, Hank and Elvin Jones. In fact Burrell and Chambers would be featured on many Blue Note and Prestige sessions together in the ensuing years.  Following jobs with Harris, J.J. Johnson, and Kai Winding, Chambers made his mark in 1955 in Miles Davis' quintet. He'd remain until 1963 before being replaced by fellow Michigan native, Ron Carter.  Chambers was the rock of a dynamic rhythm section in the Davis organization with Red Garland and Philly Joe Jones that was the epitome of tightness and swing. Chambers' warm, supple, lithe bass are at the center of the classic Davis staples Workin', Cookin', Relaxin' and Steamin' recorded over the bulk of a marathon October 1956 session that the trumpeter used to fulfill his Prestige contract.   It was  the March 2, 1959 session that partly produced Kind of Blue that vaulted Chambers to a different level.  The mysterious, impressionistic intro of "So What" with  Bill Evans' piano in tandem with Chambers' bass set off it's timeless melody that  perhaps was one of the first to feature the bass in the lead. He was certainly at the forefront of first call hard bop musicians.  He lead his own  Blue Note dates and was the bassist of choice for John Coltrane's Prestige sessions, the saxophonist's iconic Blue Train (Blue 1957) Hank Mobley's Roll Call, Workout, and definitive Soul Station (all recorded for Blue Note in 1960) among countless others.
Besides his staggering facility as an pizzicato bassist, Chambers' arco improvisation acumen was just a formidable, adding to the bar that Slam Stewart set with his own bow work.  Chambers' influence in arco playing is heard particularly with Christian McBride and Ben Williams just to name a few.  Chambers was also a part of the Davis rhythm section with Wynton Kelly and Jimmy Cobb that later joined Wes Montgomery to record classics like Full House (Riverside, 1962) and Smokin' At The Half Note (Verve, 1965).  One of the most intriguing sessions that Chambers was a part of in this era was Herbie Hancock's Inventions and Dimensions (Blue Note, 1963).  The album is one of the most overlooked and underrated dates in Hancock's discography showing his deep connection to the African roots of jazz, being supported by the Latin rhythm section of Willie Bobo on drums and percussion and Patato Valdez on congas.  The album is mostly freely improvised with Chambers meshing perfectly underneath the heated polyrhythmic support of Bobo and Valdez, bringing his playing into a bit of uncharted territory.  Unfortunately Chambers passed away on January 4, 1969 of tuberculosis brought on by addictions to alcohol and drugs.
Paul Chambers influence on modern jazz bass cannot be overstated enough.  Ron Carter in particular took some of Chambers' ideas into new places and made them his own, such as the dancing triplet ornamentation Chambers would often adorn a walking line with.  Carter stated in the documentary Kind of Blue: Celebrating  a Masterpiece that Chambers was one of the first bassist to play notes that weren't necessarily the root,  something that added interest to his playing. Pat Metheny called  Mr. PC "the undisputed groove and note choice champ of all time".  Chambers also shared many similar characteristics with his round tone, and clearly defined note choices with his cousin, Doug Watkins who was also one of the premiere bassists in the 1950's.  The great strides  Paul Chambers made in jazz bass will never be forgotten, being heard in everyone from the aforementioned McBride, Linda May Han Oh and New York bassist Mark Wade.  The New York Jazz Workshop offers courses in jazz bass taught by esteemed faculty such as Peter Brendler, Maryann McSweeney, Thomson Kneeland and Andrea Venziani for those that have been touched by Chambers' music and want to know more.